Helping Your Business Grow with Laser Scanning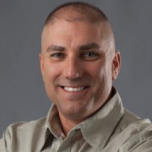 "During two decades as a piping designer, he discovered that plant documentation was ripe with inefficiencies, omissions, errors and safety risks."
Which way do you open a box of matches? Sometimes it's hard to tell and yet, if you open them the wrong way, the matches will end up all over the place. This is the kind of question that Joey wrestled with as a young boy. Why didn't engineers and designers make their products easier to use?
It's not surprising that his career has focused since 1989 on helping surveyors and engineers do their jobs more easily, accurately and rapidly with 3D laser scanning hardware and software.
It's a mission born from experiencing their pain. During two decades as a piping designer, he discovered that plant documentation was ripe with inefficiencies, omissions, errors and safety risks. He knows firsthand how oversights and inaccuracies in data collection result in unexpected interferences and field rework when completing plant maintenance, upgrades, and new installations.
As always, he naturally sought a better way. He discovered a better solution when working for Rebis Industrial Workgroup Software, a company that makes an AutoCAD based 3D plant design and analysis solution suite that works with the data produced by Leica Geosystems 3D laser scanners.

A Laser Scanning Consultant and Educator
Joey sees himself as a consultant. Sales are a byproduct of the advice he gives about documenting plants in a faster, easier, more accurate way. It's a natural role for him to play because of his years devoted to plant design. "I've spent my entire career enveloped in plant design and retrofit. Customers relate to me as somebody who's been there and done that," he says. "I show them how they can do it 10 times faster, and produce something that's twice as good as what they deliver today. If they can create their end product less expensively and increase its quality, my customers will win the bid."
It's not enough for Joey, however, to show customers the benefits of laser scanning products and help them to select the right software and hardware. He wants to be by his clients' side as they learn to use the equipment. Thus, he ensures they ramp up the learning curve as fast as possible.
The thread that runs throughout Joey's career is the need to create something. This need, to create, is imprinted in his DNA. Although he's no longer engineering structures that change the skyline, he's still able to see a tangible impact from his work. "What drives me is seeing my customers be successful with Leica Geosystems' solutions," says Joey. "I've observed some phenomenal growth paths and customers developing new businesses around 3D laser scanning.
These ventures include, for example, offering tank calibration, equipment deformation analysis, accident reconstruction, augmented reality for plant operations and scanning services. I go to sleep at night knowing that my clients are profitable, and they thank me for not backing off on my conviction that laser scanning would positively impact their business."

Why Plant Maintenance Is Like Surgery
"He says that maintaining and upgrading a refinery is similar to performing several operations on the human body at the same time."
When Joey talks about laser scanning, he uses the analogy of plant maintenance being similar to surgery. He says that maintaining and upgrading a refinery is similar to performing several operations on the human body at the same time. The plant has pipes and controllers; the body has lungs and a brain. Interferences from new structures can bruise or break existing ones. The problem is that the factory never completely leaves the operating table. Major or minor upgrades and maintenance are always happening as engineers try to keep the plant alive and as productive as possible.
That's why Joey believes it's so important to use 3D laser scanning to help keep as much of the plant as possible off the operating table and up and running. He asserts that 3D laser scanning helps with this because it enables companies to gather information fast without human error and move it effortlessly into CAD. The accurate, comprehensive data produced virtually eliminates clashes, field rework, cost overruns and time delays, helping to keep the plant healthy and running.

Earned a B.S. in mechanical engineering from Louisiana State University
Spent two decades in plant design before moving into sales in the same industry
Before joining Leica Geosystems, Joey wrote training manuals for Rebis on how to use their software with Leica laser scanners
Enjoys seeing his customers' businesses grow after they incorporate laser scanning into their services
Has won the Global President Sales Award at Leica Geosystems every year since 2011
Happily spends his "free time" with his two boys, aged seven and five
Loves motorcycling with his wife and has taken his bike to places like the White Mountains in Arizona and Hill Country of Texas