OFFSHORE
The design and maintenance of equipment for the offshore oil industry are fraught with logistical and safety complications.
Challenges to consider
Operator Cost
With a fluctuating market, operational costs must be kept at a minimum. One of the major contributors to operational cost is maintenance. Being able to find ways to improve maintenance efficiently is key to controlling its cost.
Remote Location
Working in remote locations drastically reduces access and time spent on site. Getting all the required measurements and documentation in a small window of time with no margin for error can be an unsurmountable challenge.
Hostile Environment
Harsh and unfavorable weather conditions will drastically impact the efficiency and ability to accurately document existing plant conditions. In addition, with every minute spent on site, crew safety gets exceedingly affected.
benefits of lidar documentation
Efficient
Decision making
All decisions stem from what information you have availabe at your fingertips. With 3D laser scanning data, you capture more than individual measurements, you are able to see the bigger picture. This type of data also allows you to leverage intelligent software that detects issues and prevents costly mistakes.
Comprehensive
Documentation
When it comes to remote locations, making sure all data is available without having to send crew members out to capture additional data is of utmost importance. Not only will it save a lot of time and reduce cost, but also prevent unnecessary safety issues.
Increasing
Personnel Safety
With the ability to use weather resistant 3D laser scanning equipment, accuracy is always assured. Beyond the accuracy, with the speed of laser scanning, time on site is greatly reduced, increasing crew safety.
Software Solution
Our vast options help to transform the vast amount of digital data into rich easy-to-use yet powerful high-value 3D deliverables.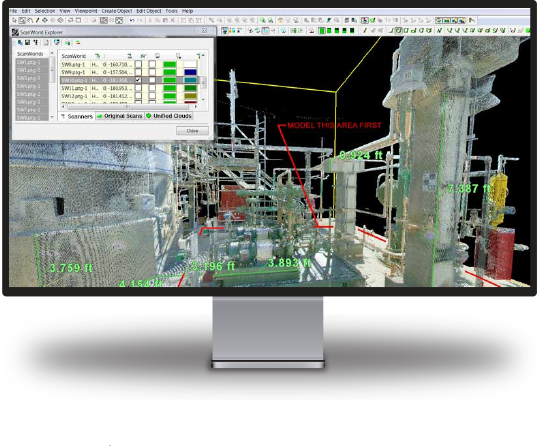 Seamless Integration
Our solutions seemlessly integrate into various popular third-party software, making it easy to super charge existing solutions.